13 Schools Recycled the Batteries Consumed by 7352 Canadian Families!
March 24, 2016
At the beginning of this year's Challenge, we introduced something called the OSBRC Pledge. The Pledge was created to help schools track their individual recycling efforts against the amount of batteries the average Canadian family uses in a year.
Each school's Pledge is unique and is calculated using the number of students and staff enrolled multiplied by 1.36. That number is based on the average Canadian family using approximately 1.36kg of primary batteries each year. For example, a school with 200 students and staff would have to recycle 272kg to receive all of their school's pledge badges.





So far this year, 13 schools have received all of their badges. They represent approximately 2925 Canadian families that have recycled as many batteries as they consume in a year! In fact, these schools have recycled a little more than 10,000 kilograms which is the equivalent to recycling the batteries consumed by 7352 Canadian families!
Enza MacPherson from Chelmsford Public School tells us, they started the Challenge because they want to teach their students about taking care of their community and the environment. "This benefits all of us! A cleaner environment is good for all of us!"
Our 2014/15 3rd place Champ; Central Baptist Academy (CBA) has been recycling batteries since 2011 as apart of their school's stewardship program. Principal at CBA, Jordan Butcher explains how the Challenge has snowballed, "Parents have also gotten their friends and co-workers to help out and by taking this on as their way of helping out the school."
When you think about it, that's proof that your programs have a larger impact on your local communities. Another positive spinoff has been higher recycling rates and diversion for other materials collected at schools. Increased recycling of common materials like paper, plastic and aluminum, and new diversion programs for used pens, lunchables and even Campbell's soup labels!
Another positive you may be noticing in your own school, came to us from Woodstock Christian School.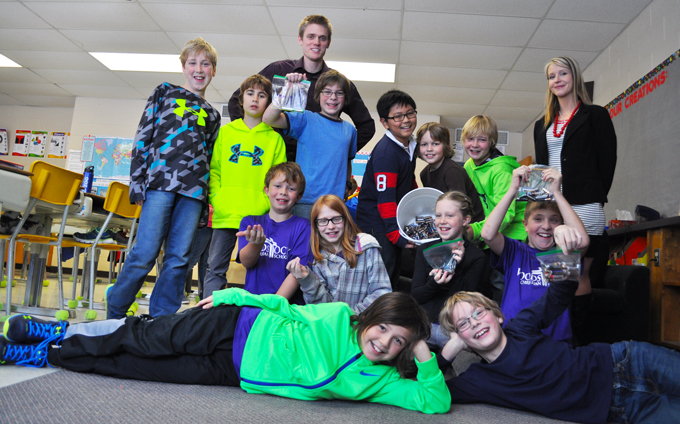 Our school seems more connected as we all frequently talk about which grade is in the lead, or which grade has jumped up on the charts recently. We are also interacting more with other grades because a few students from a certain grade will come to our classroom (Gr. 5) and drop off a bucket of batteries or help out with taping the batteries properly.
~Axel Hiemstra, Woodstock Christian School
Whatever motivates you, please keep up the great work!
Have a great long weekend!
---
Related Links
Search
Recent Entries
Categories
Tag Cloud
Monthly Archives
Favorite Links