3rd Annual Ontario Schools Battery Recycling Challenge Starts Today!
October 17, 2016
It's that time of year, Waste Reduction Week and the first day of the Ontario Schools Battery Recycling Challenge! Welcome back everyone!
If you're joining us for the first time, the OSBRC is a recycling competition between elementary and secondary schools across Ontario. Its purpose is to teach children and their families how to properly manage and recycle batteries at home and at school. The Challenge offers many free resources for educators and there is no cost for a school to participate. As a bonus, students and schools can win prizes. The Challenge begins today and runs until April 21st, 2017.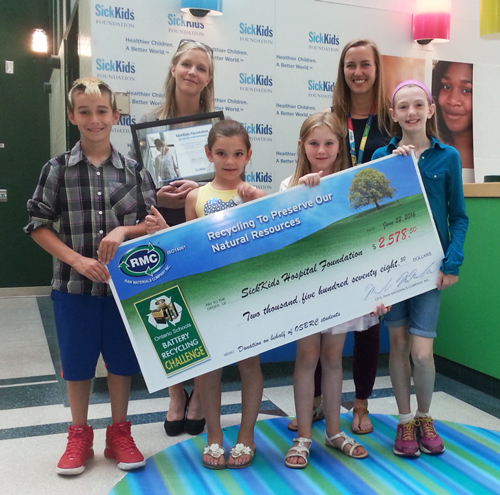 1.8 Million Batteries Recycled!
The OSBRC is gaining momentum and the results so far have been nothing less than spectacular! As a group, more than 1.8 million batteries have been recycled, diverting harmful chemicals and reusable metals and minerals from Ontario landfills. Each year students are recycling more than they had the previous year, 43% more to be exact. And, for the first time the OSBRC made a group donation to the SickKids Hospital Foundation on behalf of all participants.
Every Battery Counts!
If you're starting out, remember that every battery counts and try not to get discouraged when the leaderboard starts climbing. Positive habits aren't likely to develop overnight and It's best to look at this Challenge as a long game that you'll develop over the course of the year. As much as this is an individual Challenge, it's also a group effort that has a direct and positive impact on the environment and the SickKids Children's Hospital. Besides, whatever gains you make this year will certainly help you next year!
OSBRC Pledge
The OSBRC Pledge was introduced last year so that schools would have a better idea about the amount of batteries that exist within their own school network. The pledge is based on the average family using approximately 1.36 kilograms of batteries in a year and that weight is multiplied by each school's enrollment. If a school recycles 25% of their OSBRC Pledge, there's a good chance that 75% more batteries are sitting at home, tucked away in a drawer or a dusty recycling container. Whether you're starting out or coming back for more, focus on reaching that next milestone.
Fair Play
Please read and understand the Challenge Rules. We encourage you to go out into the community to recycle batteries that would otherwise end up in the landfill, but please remember that batteries from existing recycling points and other programs that we provide such as curbside battery recycling are not eligible for this Challenge.
We wish you all the best of luck this year! Please keep us posted on Facebook and Twitter, we're always looking for tips and ideas to share with the group, and we'd love to hear your story.
---
Related Links
Search
Recent Entries
Categories
Tag Cloud
Monthly Archives
Favorite Links