4th Annual OSBRC Starts Today!
October 16, 2017
For many across Ontario, battery recycling is the same as recycling paper and plastic. It's so common that in 2016, people living in Ontario recycled 49% of the single-use batteries they used!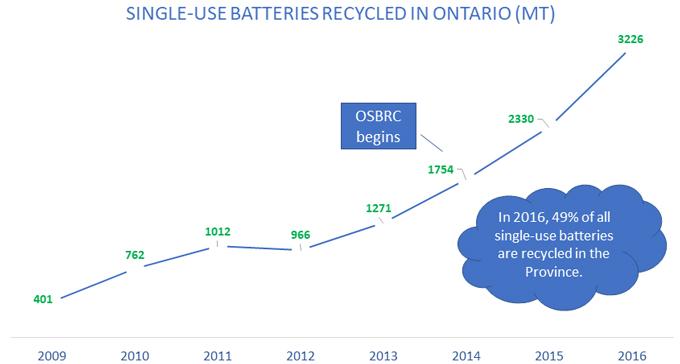 Our Province is now home to the best recyclers for single-use batteries in North America!
You may be wondering how did we become great at battery recycling? Is it because Ontario was the birthplace of the world famous Blue Box program? Is it possible that recycling is somehow ingrained in each of us because of where we live?
The truth is, it's because of people like you. Students that do everything they can to protect our local environments. Teachers and staff that take the time to find ways to talk about recycling and why it's important. It's parents leading by example at home, helping children work on student missions. In fact, it's all these things and the buzz you create while doing them.
The OSBRC has grown into a community of thoughtful citizens. A group of schools working toward a common goal to recycle as many batteries as they use each year. We're talking about 1.36 kilograms for every person enrolled in the Challenge.
We chose to call the OSBRC a challenge because it's about more than winning a prize at the end of the year. It's about promoting sustainable behaviour and working together to achieve great things. It's about teaching our children about charity and the many ways a person can give. It's about doing your best win or lose, knowing that in the end we're all winners when we take care of the environment and the people around us.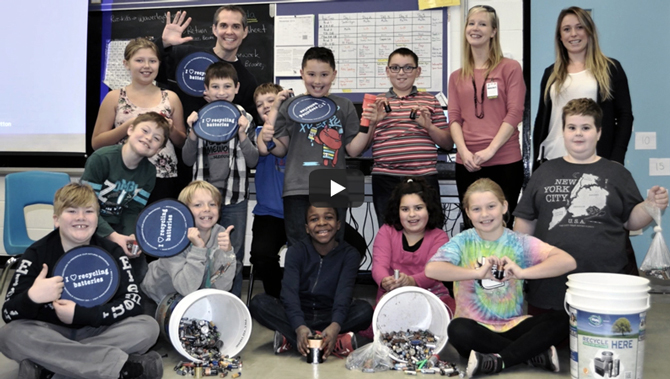 If you're a teacher and your school is joining us for the first time, we welcome you to our team! Please get familiar with all the resources you can use to promote your program. As often as you can, talk about recycling and encourage your students to bring in their old batteries.
You can keep track of your school's progress from your school administration page or by looking at the OSBRC leaderboard. The leaderboard updates in real-time so things can change in front of your eyes.
For students, try to discover how many batteries you and your family use at home. When you find a battery that no longer holds a charge, bring it to school and recycle it. Remember to sign up and complete student missions on the website for a chance to win prizes during the year.
For all the parents working at home behind the scenes, keep doing what you do best. Encourage your children to be kind and to respect our planet. Show them how to store batteries at home and how to tape the ones that need it. Help them sign up for missions and cheer them on along the way.
Remember that there's no limit to the OSBRC prize pool. Every battery counts and every battery recycled will help support the SickKids Foundation.
Best of luck this year, we know you'll do great!
Since 2014, students in the OSBRC have recycled more than 3 million batteries. The OSBRC has paid more than $33,000 in prizes and has raised $5500 for the SickKids Foundation.
---
Related Links
Search
Recent Entries
Categories
Tag Cloud
Monthly Archives
Favorite Links