5th Annual OSBRC Starts Today!
October 15, 2018
It's the first day of Waste Reduction Week in Canada, and the start of the 5th Annual Ontario Schools Battery Recycling Challenge!
The OSBRC is a Provincial recycling Challenge between Ontario elementary and secondary schools. The purpose of the Challenge is to teach children and their families about the proper way to handle and care for batteries, and how to recycle them when they no longer hold a charge.
Since 2014, OSBRC students and teachers have recycled more than 5.5 million single-use batteries, diverting harmful chemicals and reusable materials from Ontario landfills.
Every year, the Challenge pays out thousands of dollars to winning schools and a donation is made to the SickKids Hospital Foundation on behalf of all OSBRC participants.
What's new?
We listened to all of your feedback and we're happy to announce some exciting changes to the Challenge this year. First, the Challenge has opened up to allow for 200 schools. We also added two more prize categories, giving schools even more chances to win a prize!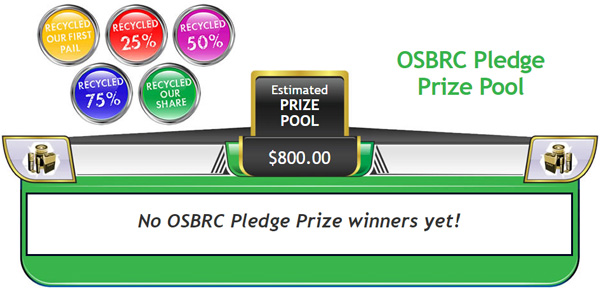 OSBRC Pledge Prize
This year, every school will have a chance to walk away with a prize! That's right, the OSBRC Pledge Prize will award every school, that meets or exceeds its individual OSBRC Pledge amount, with an equal share of the OSBRC Pledge prize pool.
Keep your eye on your school's OSBRC pledge badges, and when your school earns the coveted "Recycled Our Share!" badge, your school will split that prize with every other school that meets or exceeds its pledge at the end of the Challenge!

Most Batteries Recycled Prize
We also added a prize category that will recognize the school that recycles more batteries than any other school. The winner of this prize will be the school that recycles the most single-use batteries by weight.
Bonus Missions
We added Bonus Missions for Battery Bosses! There are three Bonus Missions in total and they are each timed to coincide with a prize draw. Each Bonus Mission that a student completes will earn them an extra entry in the next draw!
New Resources


The OSBRC gives teachers access to many downloadable resources including grade appropriate lesson plans that tie batteries and recycling into the curriculum. We added new posters and a pop quiz along with updates to the existing resources. Please use them to promote your program, and as often as you can, talk about recycling and encourage your students to recycle their batteries at school.
Let's work together to achieve something great!
We have an opportunity to do something really big that we wouldn't be able to achieve on our own. But as a larger group of schools, it is possible. Wouldn't it be great to recycle all the batteries that we use this year? It would be and it's totally achievable, in fact you're so close. Last year OSBRC students recycled 0.90 kilograms each. That's only 0.46 kilograms off the Pledge goal!
Remember, there's no limit to the OSBRC prize pools. Every battery counts, and every battery recycled will help support the SickKids Foundation!
Best of luck to everyone this year!
---
Related Links
Search
Recent Entries
Categories
Tag Cloud
Monthly Archives
Favorite Links