6th Annual Ontario Schools Battery Recycling Challenge Starts Today!
October 21, 2019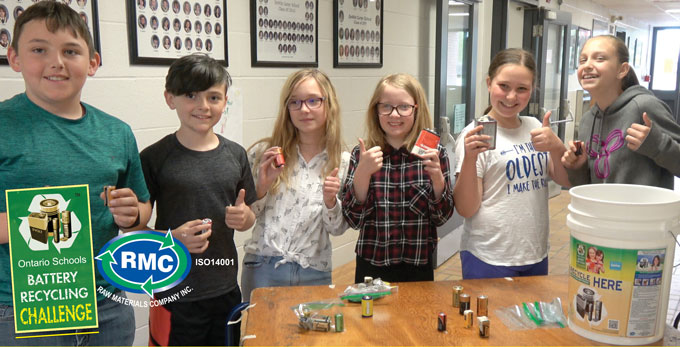 Today marks the first day of Waste Reduction Week here in Canada and it's the official start to the Ontario Schools Battery Recycling Challenge (OSBRC) by Raw Materials Company!
The OSBRC is a recycling competition between the top elementary and secondary schools across Ontario. These schools aren't your average recyclers either, many of them are doing all kinds of things for the environment and their communities. These schools are the best of the best and we're lucky to see so many familiar faces back again this year!
The purpose of the Challenge is to teach students and their families about the importance of battery recycling and to provide a convenient option to recycle them. Since 2014, OSBRC students have recycled more than 8 million single-use batteries, giving the materials inside them a second chance at life!
The OSBRC runs until Earth Day on April 22, 2020.
OSBRC Pledge
OSBRC schools have taken a pledge to recycle as many batteries as they use in a year, which works out to 1.36 kilograms for every household, or person enrolled in the Challenge. Every school that meets or exceeds its OSBRC Pledge is guaranteed a portion of the OSBRC Pledge Prize!
New Categories and Leaderboards!
This year, the OSBRC has introduced separate prize categories based on enrollment. One category is for schools with 250 people enrolled or more, and the other category is for schools with 249 or less. Now, the Top 5 schools in each category will walk away with a share of the prize pool!
New Environmental Stewardship Award!
We also setup an entirely new way to win a prize with the OSBRC Environmental Stewardship Award! To win, schools are invited to tell us a story about all of the environmental initiatives they're doing at their school and in their community and beyond to make our planet a better place. It can be a written submission with pictures, a podcast or a video – your choice! At the end of the Challenge, we'll go through each submission carefully and choose one lucky winner!
10% of the OSBRC Prize Pool is Donated to SickKids!
As always, 10% of the OSBRC Prize Pool will be donated to the SickKids Hospital Foundation at the end of the year. So far, OSBRC students have raised close to $10,000 for the Foundation!
Student Missions and Prizes
OSBRC students have many chances to win prizes by completing Student Missions and Bonus Missions! This year we're giving away two stays at Great Wolf Lodge, courtesy of Wiley and the gang! We're also giving away 10 Visa Gift Cards for $50 each!
Downloadable Resources
Don't forget, the OSBRC has a large library of downloadable resources for schools and eco-teams to use. Things like posters, activity worksheets, lesson plans and presentations.
Best of luck this year! Let's work together to do something great!
Remember, the OSBRC Pledge is an attainable goal for each and every school. Focus on capturing batteries from every student and staff home. Some schools also reach out to their immediate community. Whatever you do, remember that there's no limit to the OSBRC Prize Pool. The more you recycle, the better it is for the environment, the SickKids Foundation, every school that meets or exceeds its OSBRC Pledge and the Top 10 Leaderboard winners!
We're really excited to start this new Challenge with all of you! We wish you all the best of luck this year!
---
Related Links
Search
Recent Entries
Categories
Tag Cloud
Monthly Archives
Favorite Links