Update from Rhema Christian School!
March 18, 2015
By Joel Slofstra
Hi Sarah, Rhema's 3/4 class taping battery terminals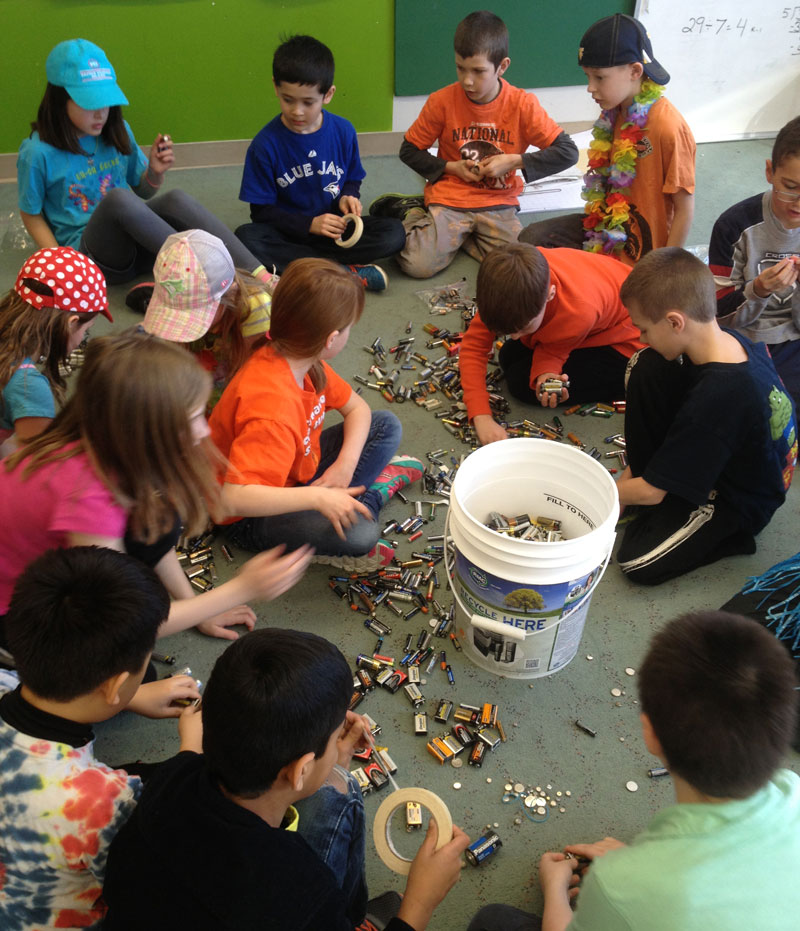 Grade 3/4 students at Rhema Christian School look forward to Wednesdays! Over the years, the grade 3 class has taken on the responsibility of recycling for the school. After lunch recess, students go to their assigned classes and pick up the class blue boxes and bring them to the kitchen area.
It is here that the recycling is sorted into paper or non-paper. The school has no dumpster and is allotted only four garbage bags a week. This is an important job. As a Christian school, we believe that we are stewards of the environment and that we need to take care of it. This year, the recycling duties were expanded to include batteries. While investigating battery recycling options, I connected with Raw Materials Company and decided to register Rhema for the OSBR Challenge. The results so far have been amazing!
The class has used a variety of methods to get used batteries. It has been a community effort. They have collected used batteries from their homes, but have also given their parents special Rhema battery collecting buckets to take to work. Some of the students have gone to their neighbours to let them know that they are collecting and recycling batteries. Several of our students have made requests in their churches for used batteries. The batteries keep coming in! Every student has taken ownership of recycling batteries. Two of our students have become "Battery Bosses" and every student has taken part in bringing in batteries, sorting, etc.
One of the most surprising, and successful, ways to collect batteries has been through social media. Recently I've tweeted pictures of our students sorting batteries and I've given updates regarding the contest on my twitter feed and through the school's facebook account. These tweets have been retweeted by people in the community and as a result people not connected with the school have brought batteries in to help the class out! Recently, the local newspaper, the Peterborough Examiner, ran a story on the class with a big colour picture and the headline "Bring Your Batteries to Rhema." As a result of this media exposure, we have had almost 30 people come from our community with batteries for the contest!
The class has big plans if they manage to hold on to one of the top three spots. There are plans in place to build an outdoor classroom on Rhema property. They would like to put the money towards making that a possibility! They are excited about leaving that legacy for their school!
Joel
Joel Slofstra M. Ed. Principal, Rhema Christian School Rhema, ON
---
Thank you for sharing these great tips and ideas Mr. Slofstra! Rhema Christian School currently sits in second place in the OSBR Challenge. To date, Rhema has recycled an average of 3.58 kilograms per student! That's more than double the amount an average Canadian household uses in an entire year! Keep up the great work Rhema and good luck!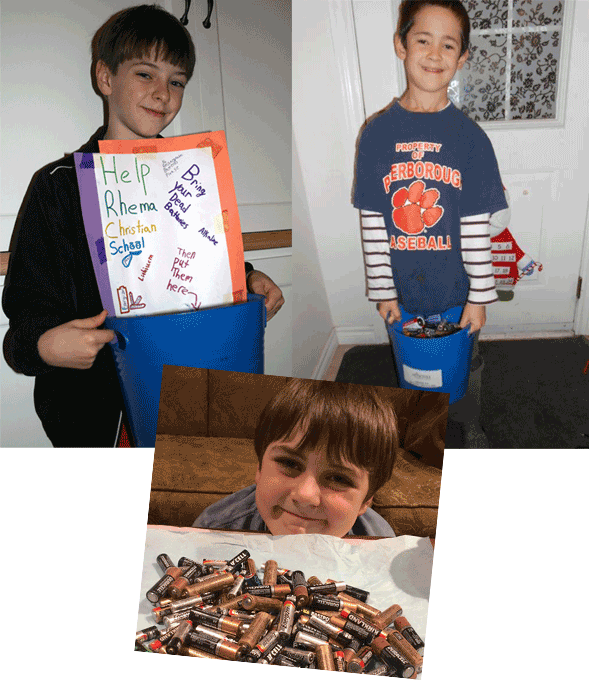 Rhema's Student Mission Participants!
Three of Rhema's students signed up to take part in the OSBR Student Missions for a chance to win a $50 Visa gift cards.
We'd like to personally thank Atticus, Gabriel, Oliver and the rest of the students and staff at Rhema Christian school for their dedication and commitment to recycing and sustainability.
Keep up the great work!
---
Related Links
Search
Recent Entries
Categories
Tag Cloud
Monthly Archives
Favorite Links