Challenge Update from Harbord Collegiate Eco-team
December 07, 2015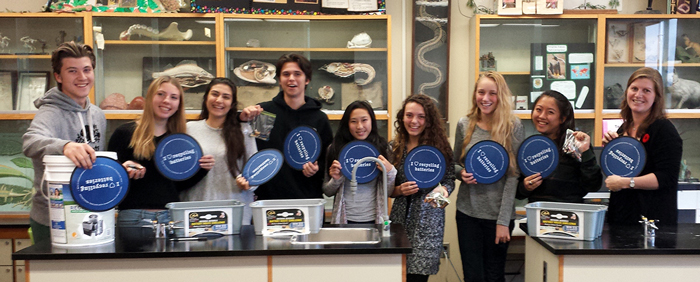 Guest blog by: Harbord Collegiate Eco-team
Harbord Collegiate Institute is a TDSB Gold Eco-school located in the heart of downtown Toronto with a mission to develop an awareness of social justice, equity and environmental issues. Last fall our science teachers attended the annual Science Teacher's Conference of Ontario (STAO) and learned about the RMC battery challenge.
Following the conference we registered our school in the battery challenge and our ecoteam discussed ways in which we could collect batteries and spread news of the challenge. We began by designing posters and logos for battery boxes and then placed them in various locations throughout the school (ex. library, main office, and all math and science classrooms). We posted information in the school newsletter and organized a display at parent-teacher night to let parent's know about the battery challenge. In our first year of the program we managed to collect over 200lbs of batteries for the challenge.
This year our ecoteam has decided to get a jump on the battery challenge beginning with an awareness campaign in early September. We used announcements, posters, and social media (twitter and Instagram) as a way to raise awareness about the battery challenge and our litter-less campaign. At the welcome back barbecue organized by student council we used this opportunity to educate others about the battery boxes and to encourage students to produce litter-less lunches. We ran a series of recycling games and gave away compostable utensils and reusable lunch containers.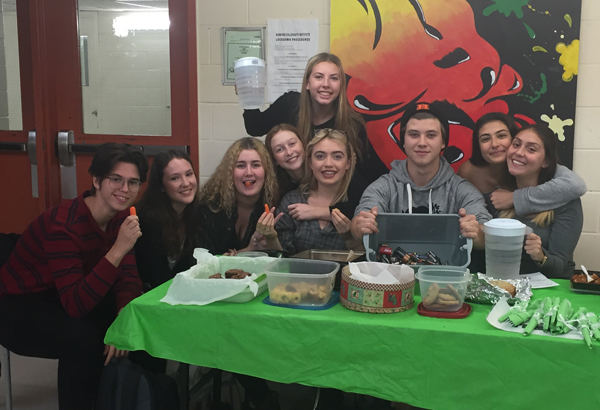 In October we ran a "battery bake sale" where baked goods were "sold" for old batteries students brought in from home. Our battery bake sale was held in the cafeteria at lunch and proved to be a fun way to raise awareness. Currently our student-designed gray bins are set up in the library, main office and science classrooms available for students to drop-off batteries at their convenience. We are now in the process of expanding our battery collection by designing more battery boxes and asking local businesses in the neighbourhood to assist in our battery collection. In December, we are planning a skit for our holiday assembly to raise awareness about our battery collection in conjunction with other environmental initiatives we are promoting.
In addition to the battery challenge, our team is actively working on a "2016 Ban the Bottle" campaign in an attempt to reduce the amount of water bottles filling up our blue bins. Our goal is to provide every student with a reusable water bottle for our 2016 launch. Currently we recycle toner cartridges, old technology (ex. computers and peripherals), in addition to a blue-bin recycling and green bins for organic waste. We are excited to be participating again in the RMC battery challenge and look forward to ringing the bell!
---
Related Links
Search
Recent Entries
Categories
Tag Cloud
Monthly Archives
Favorite Links