Cole was the First Battery Boss of the Year!
November 08, 2021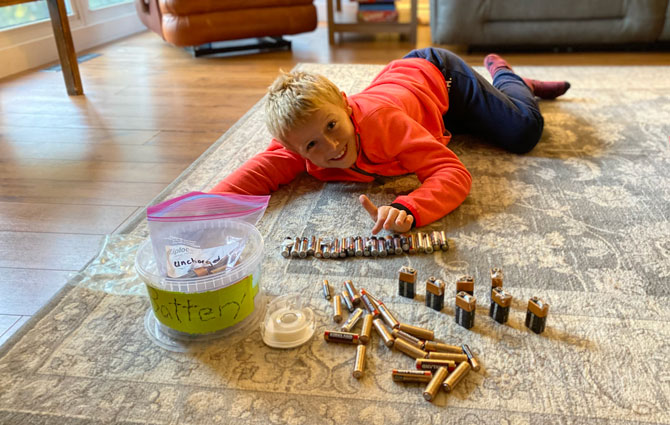 On October 25, Cole of Lakefield District Public School completed his fifth Student Mission to become the first Battery Boss of the year!
When asked why he did it, Cole said that recycling helps to keep the earth healthy.
Battery Bosses are students who go above and beyond, completing missions to help their school recycle more batteries. Each mission was designed to help students to become better recyclers at home. It encourages them to discover where batteries are used around the house and challenges them to seek out batteries that no longer hold a charge.
Students that complete missions also get a chance to win prizes. There are two draws for $50 Visa gift cards and there's also a grand prize for a family stay at Great Wolf Lodge in Niagara Falls! The grand prize draw is exclusive to Battery Bosses, so you have to complete all five missions to be eligible.
Mission 1
The first mission asks students to make a battery recycling container and poster. Recycling containers should be plastic, so they're non-conductive. A reused yogurt or ice cream tub makes a perfect recycling container.
The poster is used to send people an encouraging message and to share information about which batteries need tape.
Students can use these containers and posters at home to recycle their own batteries. Some make extra recycling containers to send to mom and dad's work to recycle batteries there too.
Mission 2
The second mission asks students to test their battery knowledge by taking a recycling quiz. The quiz can be taken as many times as needed. It helps kids understand how to handle batteries at home and how to tape the ones that need it.
Mission 3 and 4
These two missions ask students to track down and recycle batteries. Because of the pandemic, we're asking students to do the best they can without having to go outside their network.
Cole said he enjoyed trying to find batteries to recycle. He said that he found batteries in old toys, and other electronic gadgets his parents and grandparents had around the house.
Mission 5
The fifth mission asks students to survey friends and family, to learn who recycles their batteries. In fact, many students do this mission second, and say that it makes missions 3 and 4 easier.
Bonus Missions
There are also three secret bonus missions for Battery Bosses that are sent by email. These bonus missions give students extra chances to win in the upcoming draw.
The next draw is for one of ten $50 Visa gift cards on December 3rd, 2021.
Good luck everyone and congratulations Cole!
---
Related Links
Search
Recent Entries
Categories
Tag Cloud
Monthly Archives
Favorite Links