Congratulations Aiden! First Battery Boss of the Year!
November 17, 2020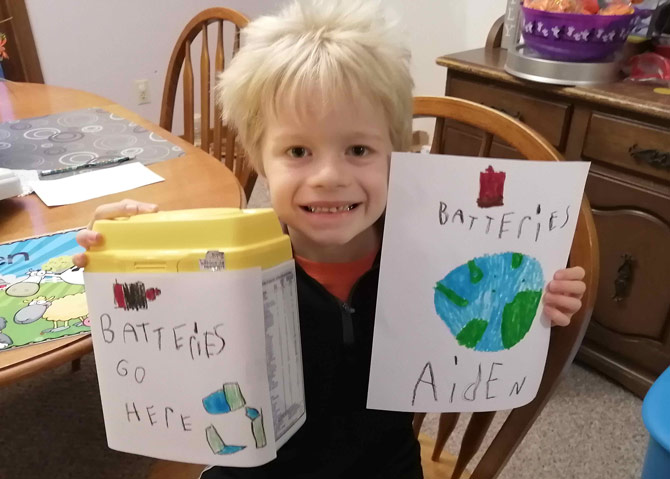 Folks, it's official! The first Battery Boss of the 2020-2021 Ontario Schools Battery Recycling Challenge is Aiden of Springfield Public School!
Congratulations Aiden for completing all five Student Missions to become an official Battery Boss!
Springfield Public School is no stranger to the OSBRC. In fact, this rural Ontario school in southern Ontario has stood atop the podium on several occasions and continues to have the most students participating in Student Missions year after year. As for being a Battery Boss at Springfield, Aiden is in good company.
"This is my second year participating in the battery challenge, and it's my second time as a Battery Boss," said Aiden. "Recycling batteries is important because when you recycle, you help the environment."
Aiden now has two chances to win one of five $50 Visa gift cards in the upcoming draw on December 4th. His name will also be entered into the Family Day draw for a family stay at Great Wolf Lodge in Niagara Falls.
We asked Aiden if there was a message he wanted to share and he said, "Keep recycling batteries so we can help our planet!"
Absolutely Aiden, we couldn't agree more!
OSBRC Student Missions
Simply register and complete a mission for a certificate. Complete 3 missions by December 4th, 2020 and your name will be entered into a prize draw to win 1 of 5 $50 Visa gift cards before the New Year.
Complete all 5 missions by February 15th, 2021 and you'll have a chance to win a Family Trip to Great Wolf Lodge!
Complete all 5 missions before the end of the Challenge for another chance to win 1 of 5 $50 Visa gift cards!
---
Related Links
Search
Recent Entries
Categories
Tag Cloud
Monthly Archives
Favorite Links