Fairmont is the School to Catch!
December 03, 2014
For anyone that has been keeping track of the Leaderboard, it's no secret that Fairmont Public School has had a successful launch to its battery recycling program!
What we didn't know until now was how?
We caught up with Tony Pelaia, the Grade 4 teacher that has taken the reigns of the program, to understand more about Fairmont's tested formula.
---
Sarah Lacharity: Fairmont is no stranger to recycling batteries; you've been a top collector in our network for several years. With only 375 staff and students, how are you able to achieve such amazing results?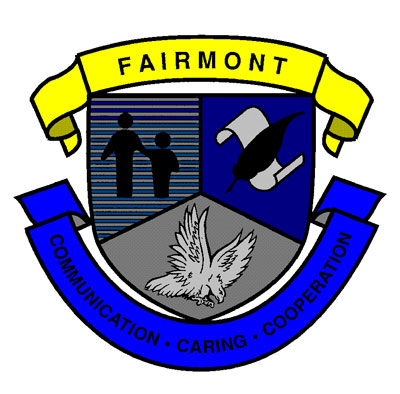 Tony Pelaia: Fairmont Public School is very focused when it comes to
recycling. We are extremely proud to be part RMC's battery recycling program for the past several years. Our Fairmont school crest highlights our three characteristics to which we can attribute our success: Caring, Communication and Cooperation.
Caring for the environment is important to us. We try our best to recycle our paper, plastics and cans at school every day. Obviously, batteries are no exception! Communication is another key to our achievements. The ongoing communication to students, families and our community has greatly improved our ability to send the strong message that battery recycling is an essential part of any recycling program. Lastly, it's cooperation that keeps us working together and focused on achieving a common goal. Can you tell that we are committed to our school?
Sarah: Can you please provide us with a description of Fairmont's inner school competition and how it works?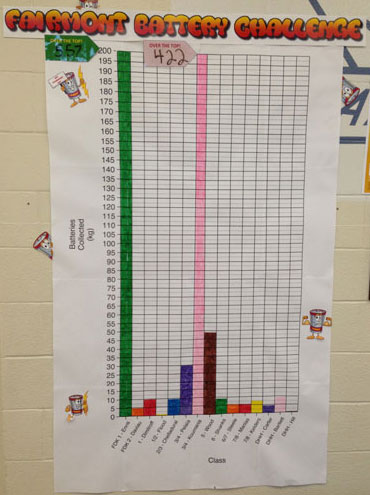 Tony: After our initial Battery Challenge Kick Off assembly that took place during Waste Reduction Week, the students were informed of our inner-school competition.
Similar to the province-wide competition, each classroom is competing to win a pizza party for the most batteries collected per class. The batteries are weighed on a monthly basis; the data is collected and then updated on our oversized bar graph displayed in the front foyer of our school.
This keeps students excited and eager to keep bringing in batteries. Any class could potentially win, as the total weight of the batteries per class is divided by the number of students in that class. This makes it a level playing field for each classroom.
Sarah: How do you keep battery recycling top of mind all year long?
Tony: We keep our students, families and community up to date on our battery program. Our school website reminds visitors to save their batteries and bring them into the school for recycling. Classrooms are equipped with a "battery bucket" next to the blue box recycling containers. Posters around the school encourage students to recycle their batteries. The oversized bar graphs with our battery collection results always keeps the hallways buzzing about batteries!
Sarah: Why did Fairmont start a battery recycling program?
Tony: Our school environment club "The Green Falcons" was started several years ago. With their efforts and the support of our staff, community and school board, we were able to get our battery recycling program started. Last year, we proudly accepted our first official EcoSchool certification. Our efforts with the battery recycling campaign helped us with this environmental accreditation. We know our efforts are making an enormous impact with helping to improve our environment!
---
Thank you Tony and all of the students at Fairmont Public School for sharing some helpful tips on running an inner school competition! If anyone is interested in starting their own inner school competition, feel free to download the Classroom Scorecard from the Resource section of the website.
---
Related Links
Search
Recent Entries
Categories
Tag Cloud
Monthly Archives
Favorite Links