First Battery Boss of the Year!
December 02, 2015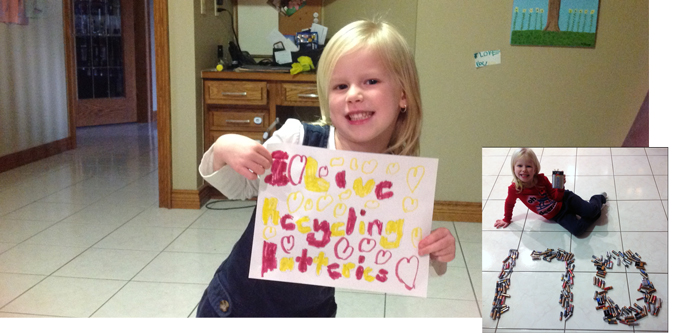 We're happy to announce that Lily of Stoney Creek has completed all five Student Missions and she was the first Battery Boss of the year!
Congratulations Lily!
This is the second time Lily has earned the title and we were very fortunate to be able to thank her in front of her classmates at a recent school assembly.
Sarah asked Lily about her recent achievement and here's what she had to say:
Sarah – Wow Lily, you recycled a lot of batteries! How did you do it?
Lily - I collected my batteries from all of our remotes and games. My family are also big helpers. They know I like to recycle batteries and they keep them for me and they helped me by getting the batteries out of the remotes and games.
Sarah - Why is recycling your batteries important to you?
Lily - Because I like to do all the missions, and it's fun to help recycle so they do not go in the garbage.
Sarah - How does it feel to be RMC's first official Battery Boss of the year?
Lily - I am super excited, and my Mommy and Daddy took me out for dinner to celebrate!
Sarah - This is your second year being a Battery Boss; do you think you will be a Battery Boss next year too?
Lily - Yes, I want to be a Battery Boss again when I am in grade 1. I love recycling batteries!
Thank you Lily, keep up the great work!
Lily will have her name entered into the Family Day Prize draw for a family trip to Great Wolf Lodge in Niagara Falls! Good luck!
---
Related Links
Search
Recent Entries
Categories
Tag Cloud
Monthly Archives
Favorite Links