Great Wolf Lodge Prize Draw Coming Up February 20th, 2017!
February 02, 2017
Speaking for all of us here at Raw Materials Company, one of the most rewarding parts of our job is seeing the smiling faces on all the students that have submitted Student Missions over the years. And why wouldn't they be smiling? If you think about it, these fantastic kids just did something great for the environment, something tangible and the gratification was instant! They didn't doubt for a second that one person could make an impact, they just knew that every battery they recycled was one less that ended up in the local landfill that year. To them, that was good enough.
When you're an adult, it can be easy to get wrapped up in the issue of the day, and sometimes we lose sight of some of the important things that really matter to us. Life gets busy, and in those times, it's hard to dedicate the energy or attention to all the things that we have committed to over the years.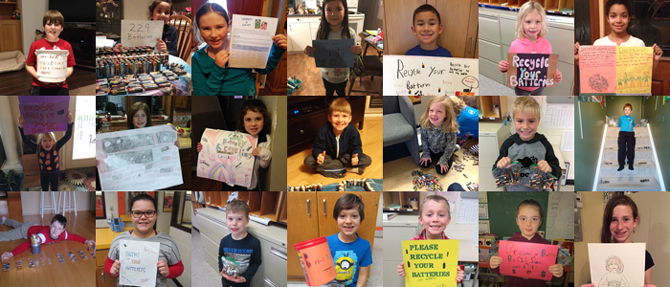 Click here to see the full gallery!
In contrast, when I look at these young faces and I see their commitment to this cause, I can't help but appreciate their remarkable dedication and enthusiasm and it inspires me. I often have to remind myself that these are kids, tackling a grown-up environmental challenge.
One thing we hear often from parents, is that it's the kids that manage and police the garbage and recycling in the home. While it may be true that they're not signing up to take out the garbage, they're more than willing to volunteer their time and share their recycling knowledge.
These students really seem to understand the connection between improper disposal and the impact that it has on the soil and ground water and they're saying loud and clear "We're doing something about it!"
To all the students participating in the Ontario Schools Battery Recycling Challenge, thank you very much!

Please remember to complete all five Student Missions before February 20th to be included in our Battery Boss prize draw to win a family trip to Great Wolf Lodge in Niagara Falls, Ontario!
A big thank you to Great Wolf Lodge for donating this fantastic prize!
Great Odds!
At last count, there were only 47 Battery Bosses eligible for the upcoming GWL prize draw!
Top Six Schools with the Most Completed Student Missions
• Springfield Public School - 68
• Muskoka Christian School - 28
• DeWitt Carter Public School - 23
• Montgomery Village Public School - 17
• Jarvis Christian School – 15
• North Addington Education Centre - 15
---
Related Links
Search
Recent Entries
Categories
Tag Cloud
Monthly Archives
Favorite Links