Keeping in Touch with St. Ann Catholic School
February 04, 2015
By Paul Kuczera
Hi Sarah, Battery Lead students Blain and Schuyler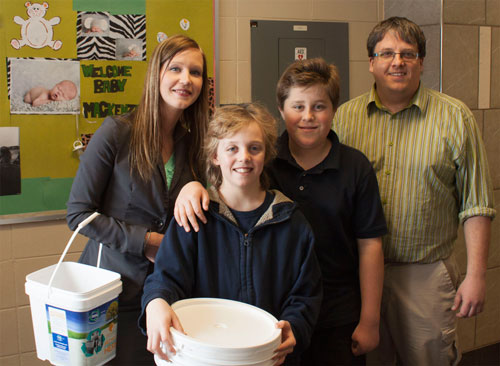 We joined the battery recycling challenge this year after a very simple circumstance we ran into here. After coming back from the summer break, we needed to change the batteries on a few pieces of equipment at school. Upon gathering up the old batteries, someone asked what we were going to do with them. Thinking that it was bad for the environment to just toss, we looked into the idea of recycling them, coming upon your company's website, and the rest is history!
We have now been actively encouraging our student community here to share our challenge with the greater school community, getting not only parents to look for old batteries around the house, but grandparents, aunts and uncles and neighbours too. We are now just about ready to call in to have our first drum picked up and the students are proud of their successes to date!
Our battery collection team is made up of two dedicated "battery-lead" students from our school's Eco-team, as well as several other "assistants" who dedicate some time each week to sorting, taping and checking batteries when needed. They have also encouraged their peers to continue looking for all their old batteries at home to help increase our school total.
Our school is really happy to be part of the RMC Battery Challenge and we look forward to continuing to collect all our old batteries to prevent them from making their way into our landfills while helping boost recycling efforts.

Paul

Paul Kuczera OCT
St. Ann Catholic Elementary School
Fenwick, ON
---
Thank you for the update Mr. Kuczera!
Great Job Kevin and Samantha!
Earlier this year we visited St. Ann Catholic School and talked with the students about batteries and recycling. After the presentation, we presented Kevin and Samantha with their certificates for completing Student Missions! Great work, keep it up!
St. Ann Catholic School currently sits among the Top 20 schools in the Challenge. To date they have collected an average of 1.07 kilograms per student / staff enrolled! Remember, 1.36 kilograms is the average amount a Canadian household uses in an entire year!
---
Related Links
Search
Recent Entries
Categories
Tag Cloud
Monthly Archives
Favorite Links