Ontario Schools Battery Recycling Challenge Wraps up April 19th!
April 02, 2019
This is it, there are only a few short weeks left before April 19th, 2019 (Friday before Earth Day) which marks the last day of the Ontario Schools Battery Recycling Challenge!
At the time of writing this post, the OSBRC Prize Pool is up over $11,000 and more than 1.6 million batteries have been recycled so far! On top of that, 19 schools are now eligible to receive a share of the OSBRC Pledge prize and the top two schools in the Province are digging in to hold off a determined push in the other two prize categories. This year, the OSBRC has raised more than $1,100 for the SickKids Foundation. What a race to the finish line!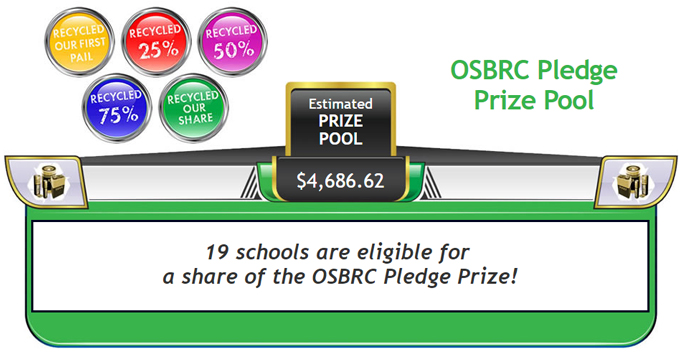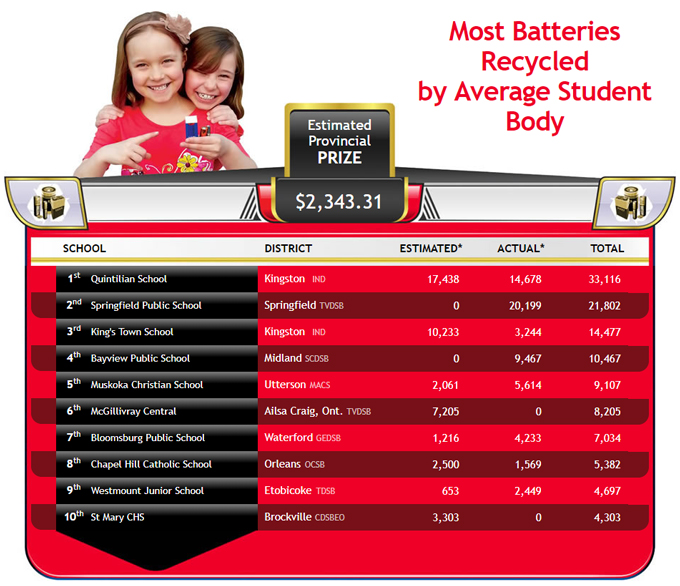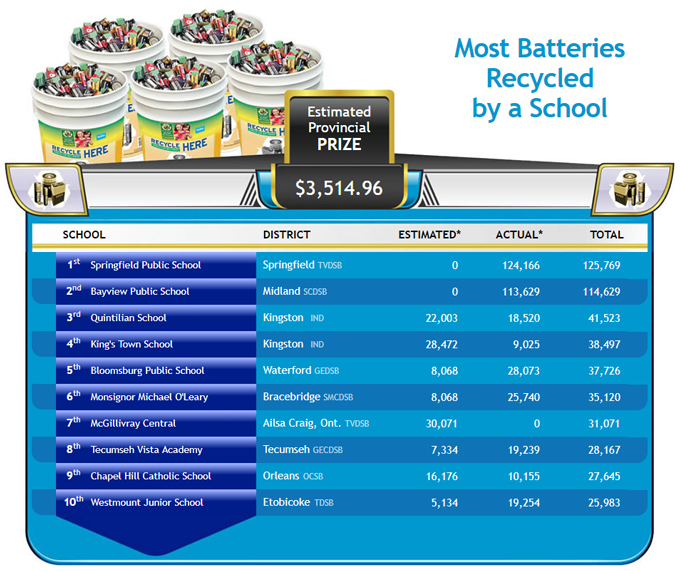 We anticipate a frenzy of activity as we head into the final stretch, and there's a good chance the prize pool is going to spike as it seems to always do in the final week. It's still anyone's game, so please stay focused and determined and let's make this the best year on record.
I think it's safe to say that you've all done a wonderful job this year and we couldn't be prouder of what this small group of schools has achieved! No matter where you stand on the leaderboards, if as an individual you took the few minutes to recycle your own batteries at some point during the year, you did your part and contributed to this fantastic year!
Please submit all your pails by ringing the bell before April 19th @ 5:00 p.m.
As we move into the final days of the Challenge, please remember to get caught up with your pail submissions by ringing the bell. If you're having any trouble logging in, please contact us. That way we can coordinate our pickup schedule with all of the schools participating in the Challenge. This year there are 200 schools, so we have a lot more stops to make and we don't have that much time to do it. So, we're counting on everyone's support!
If you're the primary or secondary contact at your school, you will receive an email to coordinate a pickup date over the next couple of weeks. Please do your best to reply promptly.
Register for next year!
As we normally do at this time of year, we're offering participating schools a chance to pre-register for next year's Challenge today! If you plan to join us again next year, please take a few minutes to reserve your spot today! Please include your name and the name of your school in the body of the email. There are no immediate plans for expansion next year, so space will be limited to the first 200 schools that register.
If you're reading this and your school is not currenly enrolled in the Challenge, you can add your school to our early bird registration here.
Best of luck to all schools! It's still anyone's game, so work hard and we'll see you on the other side!
---
Related Links
Search
Recent Entries
Categories
Tag Cloud
Monthly Archives
Favorite Links