Recycle Those Batteries! OSBRC Finish Line is in Sight!
April 04, 2018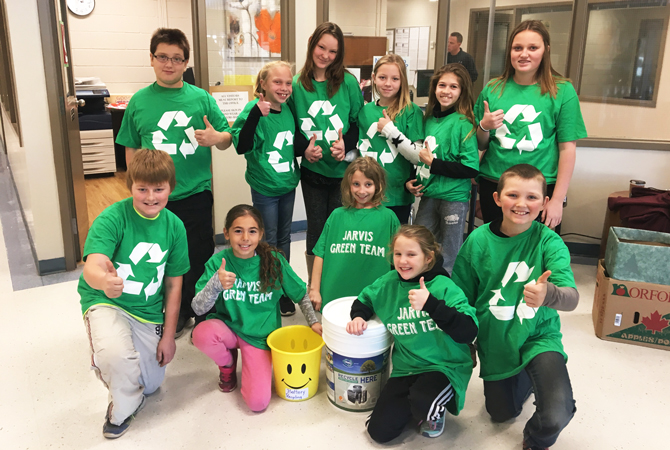 Students from the Jarvis Public School Green Team striking a pose for the OSBRC!
There are only two weeks left to recycle batteries for the Ontario Schools Battery Recycling Challenge. This year, OSBRC schools have broken all kinds of records, including the most batteries recycled in a Challenge year! As of today, schools have recycled more than 1.1 million household batteries!
The OSBRC leaderboard continues to climb and if past years are any indication, there's a good chance it's going to jump even more by the time all the batteries are sorted and weighed at our facility in Port Colborne, Ontario.
To all schools taking part in the OSBRC, we want to say thank you for your dedication this year. Your leadership and support for this environmental cause is an inspiration to anyone who witnesses it. Your energy and enthusiasm are contagious, and we see evidence of that in every one of your communities. It's simply electrifying!
Exciting updates for the next challenge!
We don't want to get too far ahead of ourselves, but we can't keep it a secret any longer! Over the years, we've received a lot of fantastic feedback about the Challenge and we're happy to announce some awesome improvements beginning next Challenge!
More chances to win!
We're excited to announce that we'll be including more chances to win! First off, the existing leaderboard for most batteries recycled per student will remain. We will also be adding another leaderboard that will reward the school that recycles the most batteries!
Wait, there's more… We will also be introducing a Pledge Prize, where all schools that recycle their share by the end of the Challenge (earn all their OSBRC Pledge Badges) will get an equal share of 40% of the Provincial Prize Pool!
2018/2019 Prize Pool by Percentage
30% - Awarded to the school with the most batteries recycled overall
20% - Awarded to the school with the most batteries recycled per student / staff enrolled
40% - Shared equally by all schools that reach the OSBRC Pledge
10% - Dontated to SickKids Hospital Foundation
More schools!
The Challenge is also going to make room for an additional 75 schools, bringing the total number of schools to 200!
Please ring the bell!
As we wind our way toward Earth Day and the end of this year's Challenge, we want to remind all schools to login and Ring the Bell so that we can finalize our pickup schedule over the next two weeks. Just like we've done in previous years, we try to coordinate the first pickups to include all the schools that are contending for the top three spots.
Don't forget to register!
Early bird registration for the 2018/2019 OSBRC is now open! If you want to reserve your spot in next year's Challenge, please take the time to pre-register here!
Best of luck to all the schools, students, teachers and parents that have been recycling batteries for the OSBRC! Please keep up the great work!
---
Related Links
Search
Recent Entries
Categories
Tag Cloud
Monthly Archives
Favorite Links