OSBRC Wraps up another Fantastic Year!
April 19, 2019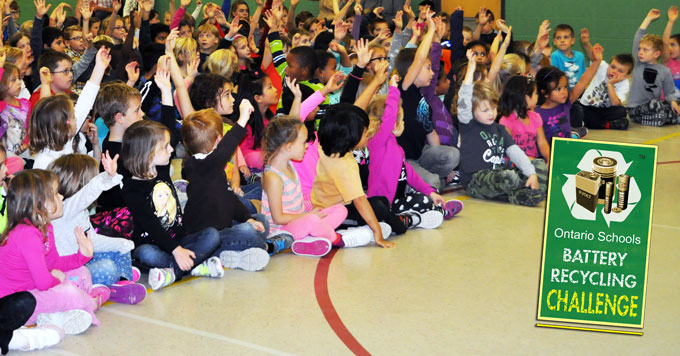 That's it! At 5:00 p.m. today, we froze the OSBRC Leaderboards to mark the end of this year's Ontario Schools Battery Recycling Challenge! What a fantastic season everyone! You did an awesome job for the environment, your communities and the SickKids Foundation!
Approximately 1.9 million batteries recycled!
This year, OSBRC students recycled a whopping 2 million batteries! So far, 27 schools are eligible to receive an equal share of OSBRC Pledge Prize, and before long we'll announce the two schools that will take the top spots in the remaining two prize categories!
Winning schools will be announced in June!
The batteries recycled during the Challenge will be transported to the Raw Materials Company ISO 14001 recycling facility in Port Colborne Ontario over the next few weeks. During this time, you'll notice things change on the leaderboards as estimated weights are replaced by actual weights. The winning schools will be announced in June, so please stay tuned!
What happens to all of the batteries now?
As Raw Materials Company receives the batteries, the first step will be to sort them by chemistry using the OBS 600 optical sorting technology developed by REFIND Technologies of Gothenburg Sweden. At 30 batteries per second (1800 kilograms per hour), this advanced identification and sorting system records the brand and chemistry types of the batteries it sorts. It then uses high pressure blasts of air to push the different chemistry types into their appropriate bins, leaving only the alkaline batteries which will run off the end of the conveyor into a dedicated bin.
Alkaline batteries are processed using RMC's advanced technology
More than 80% of the batteries a household uses, are of the alkaline variety. The alkaline batteries that you recycled are processed using RMC's patented recycling technology – the RMC 3500. This Ontario made solution for alkaline batteries is recognized worldwide as one of the most efficient ways to recover the metals and minerals found inside alkaline batteries.
The RMC 3500 was recently audited under the CSA Group Guideline – CSA SPE-890-15 where it achieved a recycling efficiency score of 84% and an overall diversion score of 87%. That means 84% of the resources inside each alkaline battery processed using RMC's technology, are reused in applications that the materials were originally mined for.
What happens to the rest of the batteries?
In past years, OSBRC students have done very well to only recycle single-use batteries, which are the only batteries permitted in the OSBRC. But even with our best efforts, some odds and sods slip through. Rest assured that the other chemistry types that you recycled will be sent to other processors that specialize in recycling those types of batteries, so that the maximum value is recovered from each.
It's fitting that this Earth Day falls on a holiday, you deserve it!
---
Related Links
Search
Recent Entries
Categories
Tag Cloud
Monthly Archives
Favorite Links