RMC's First Battery Boss!
December 01, 2014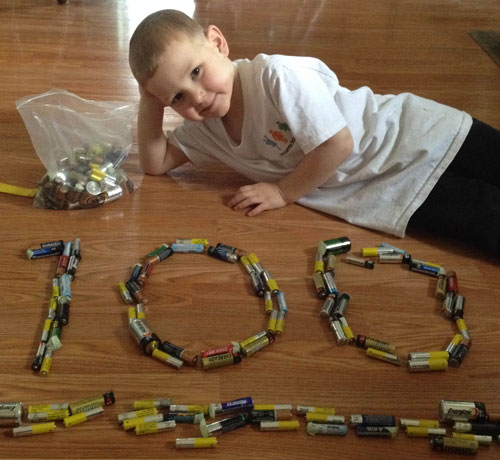 The Ontario Schools Battery Recycling Challenge is one month in and students all over the province are busy recycling their household batteries!
Take a look at our friend Clinton. He's an elementary student from Alma, Ontario and has already completed all five Battery Missions making him RMC's first ever Battery Recycling Boss!
Clinton (with his mother's help) has recycled more than 700 batteries over the last month since the beginning of the Challenge! We asked Clinton how he was able to recycle so many batteries in such a short period of time. Clinton said his mother [Paula] took a picture of him holding his battery poster from Mission 3 and posted it to her Facebook.
"Lots of people said they had batteries for me," explained Clinton. He also made another poster that said "Thank you for the batteries" and his mother Paula sends that poster to everyone that gives Clinton batteries.
When we asked Clinton how he felt about being the first ever Battery Boss? Clinton said "Great! Great! Great!" (accompanied by some joyful bouncing).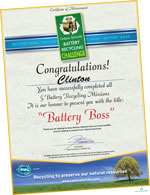 Clinton now has all five Battery Mission certificates and the Official Battery Boss certificate. Clinton will also have two chances to win one of five $50 Visa Gift Cards before the holiday break. If he wins, I'm sure he'll use some of the money to buy his mother something nice for Christmas.
Any student that wishes to participate will need to have a parent or legal guardian register for them. Once registered, a parent will be able to access each mission and will be able to use the form to submit the mission requirements online. It's that easy.
Visit: https://www.rawmaterials.com/ontario-school-recycling-challenge/student/
Great Job Clinton!
---
Related Links
Search
Recent Entries
Categories
Tag Cloud
Monthly Archives
Favorite Links