Small Group of Ontario Schools Gives us Enormous Hope!
April 02, 2015
Eco Team Students at Montgomery Village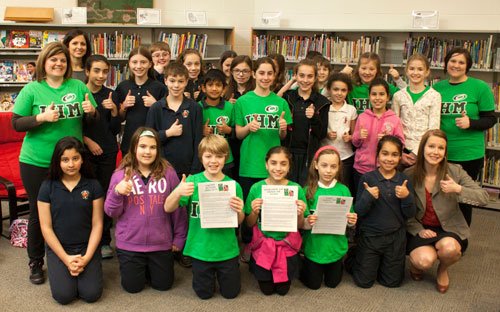 Earth Week marks the final days of the Ontario Schools Battery Recycling Challenge. To date approximately 14,681 kilograms of used household batteries have been recycled from 100 participating schools in the province. The program has reached more than 57,000 staff and students and has raised an estimated prize pool of $5,800!
The achievements of this relatively small group of schools gives us enormous hope and insight into what can be accomplished when people dedicated to a common cause stand up and take action. Let's face it, it's people like you that are making all the difference.
Believe it or not, household battery waste is a problem in Ontario, along with many other types of hazardous & special wastes that wind up in our community landfills. These once useful, but now discarded items pollute the soil that feed our aquifers and contaminate the very water we depend on for life.
But it's a manageable problem, and it's one that we've all taken ownership of. Together, we setout to pilot a program to raise awareness for battery recycling and we've done exactly that. With your leadership and guidance, students learned about the importance of batteries and how we have come to depend on them everyday. They learned about the earth's finite resources and know that there's an environmental cost every time we mine the earth's riches from ore.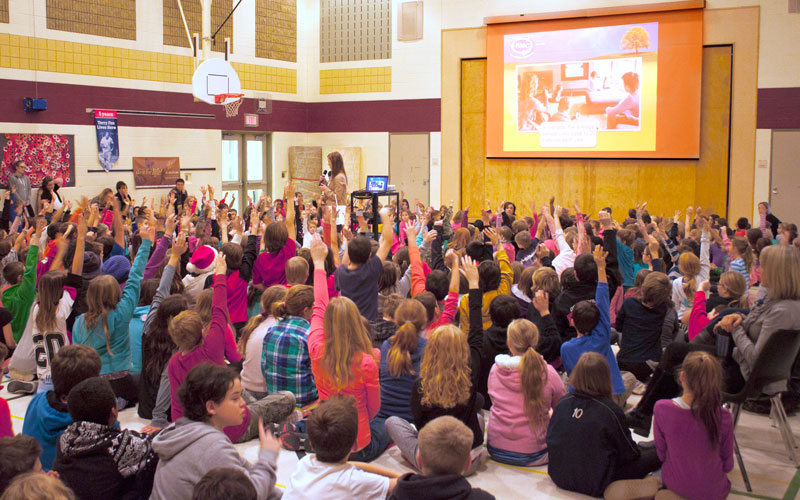 Students at Mongomery Village in Orangeville, Ontario learn about battery recycling
We also learned about hope, and the idea that something once considered to be destined for landfill can now be entirely reclaimed using innovative recycling technologies. Recycling technologies that help us protect our resources and the environment for future generations.
But it's all about choice. On the micro level it's our individual choice to do what's right with our own waste. On the macro level it's about how we as a society believe our waste should be managed. Is recycling synonymous with sustainability? Should it be? When you consider how our alkaline batteries are recycled in Ontario, it's as close as it has ever been.
Earth Week begins April 18th and runs until April 24th, the last day of the OSBR Challenge. If there was ever a time to recycle batteries, this is it! If you consider that the average family can use up to 1.36 kilograms each year, it's obvious that we're just scratching the surface. Reach out to your students and their families. Send letters home with them and help them understand that household batteries need to be managed responsibly. Most importantly, do what you do best; teach them how and why.
Thank you for all your support!
Sarah Lacharity
---
Related Links
Search
Recent Entries
Categories
Tag Cloud
Monthly Archives
Favorite Links