Small School… Big Difference!
February 05, 2015
An interview with the EcoTeam leaders at Hillsdale Elementary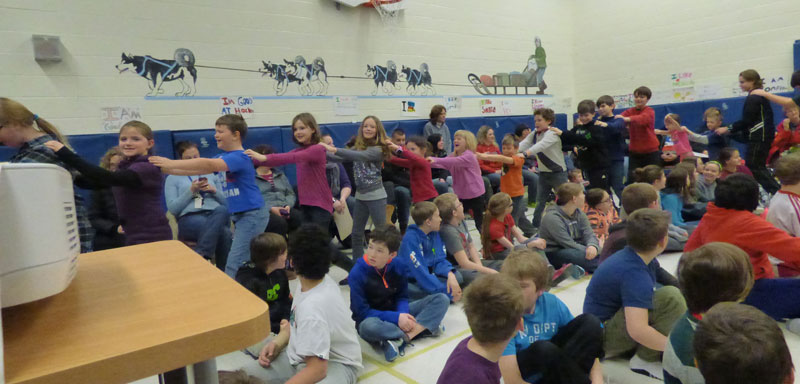 Hillsdale students form a Battery Congo Line! "da da da da da BATTERIES, da da da da, da, BATTERIES!"
We've been keeping our eye on the OSBRC Leaderboard and we're happy to share some encouraging thoughts and great tips from one of the smaller schools in the Challenge. In terms of student and staff enrollment, Hillsdale Elementary may be small size but their dedication and commitment to recycling and sustainability is having a HUGE impact on the environment and the local community.
Currently ranked among the Top 20 Schools in Ontario, Hillsdale Elementary, a school of only 220 students and staff has already recycled an estimated 204 kilograms of batteries! That's an average of .93 kilograms per student and very close to collecting 1.36 kilograms per student - the amount an average Canadian household generates in an entire year! Sue Buchanan, school custodian is kept busy moving the full 5 gallon bucket to the outside storage area.
We spoke with Lauren MacInnis the SK/Grade 1 teacher that administers the Hillsdale battery recycling program. Ms. MacInnis tells us that Hillsdale Elementary has maintained an Ontario Eco Schools Gold level status for five consecutive years and this year they are eligible to make a submission for a Platinum level certification.
"The Platinum level certification requires an ongoing commitment from our students, staff and community members, " explained Ms. MacInnis. "The OSBR Challenge is another opportunity for us to engage our students in environmental learning and practices and deepen their awareness of environmental issues."
Cory Lyn Styles, EcoTeam Leader explained that the certification provides a comprehensive series of questions and criteria that at school must meet to be considered for a Platinum level score. The Eco-Team at Hillsdale has implemented the battery recycling program and is using its resources in conjunction with other environmental initiatives, to help the school demonstrate that they've taken the required actions. Below is a preview of the Hillsdale Eco-Team's action plan to increase battery collections as they head into the final stretch of this year's Challenge:
Community Signage – Installed at the top of the street to remind parents that batteries can be recycled at the school.

Social Marketing – Hillsdale uses a program called Remind (similar to Twitter) to share information with its school members. Reminders will be sent out bi-monthly.

Newspaper Article – A newspaper article will be written and submitted to the local newspaper to help promote the school program.

Flyer Campaign –Flyers have been placed at the local library, grocery store and several other businesses to promote the school program.

Battery Drive – A student EcoTeam member has suggested a drive where students (under supervision) go door to door to collect and recycle batteries from the surrounding community.

Monthly Assembly – The Eco Team will be promoting the school collection program during monthly assemblies and during daily announcements. At next month's assembly, the Eco Team is going to Ring the Bell 8 times!

Satellite Collection Sites – Hillsdale has made arrangements with the local library, other schools and businesses in the area to recycle batteries on their behalf.
Please note:
Setting up a satellite collection site is acceptable as long as the batteries are not being displaced from existing collection sites setup by RMC. In many cases across the Province, we have programs that provide incentives to community charities based on the tonnage recycled at various retail, municipal and non-profit locations. As a result, we would not want to see any of those charitable programs negatively impacted by displaced tonnage.
If you do setup a satellite collection site, please contact me so that I can provide you with the proper collection containers and promotional support that demonstrates the proper way to prepare batteries for recycling.
Great Action Plan!
It looks like Hillsdale Elementary School is poised to make a push for the top spot! They have a well thought out plan and it's only a matter of time before these new initiatives start paying off.
We asked Maggie Jenkins, EcoTeam Leader, what Hillsdale would do if they won part of this year's prize pool. She said "Hillsdale has been working on a schoolyard greening project for the last 5 years, we are nearing the end but are in need of several trees to finish the windbreak in the schoolyard. We would use the award to purchase native trees through a local supplier."
Good luck to Hillsdale Elementary School and every other school that is participating in the OSBR Challenge!
There are 100 Ontario schools registered for 2014/2015 OSBRC. To date more than 9373 kilograms have been recycled. Nine of the top 20 schools participating in the Challenge have fewer than 300 students and staff enrolled.
---
Related Links
Search
Recent Entries
Categories
Tag Cloud
Monthly Archives
Favorite Links