Spike in Student Missions Energizes Recycling Efforts!
December 04, 2015

The Ontario Schools Battery Recycling Challenge is well under way and so far this year, we've seen a spike in the number of people signing up for Student Missions.
Since the Challenge started, 117 people have registered for Missions and students from the Top 10 schools have completed 43% of them! Coincidence?
Take a look at John Marshall Public School in Niagara Falls. New to the Challenge this year, John Marshall is currently sitting in 2nd place and they have the most students registered - 16!
From the feedback we've received, it seems as though the Missions are helping to create awareness for battery recycling at school and in the community as these 'Recycling Ambassadors' spread out in search of batteries to fulfill their Mission requirements.
For instance, two of the five Missions are Battery Hunts and to complete each mission, students are asked to recycle 50 and 100 batteries from friends and family to bring to school. From the pictures, we're noticing that these dedicated recyclers are collecting way more!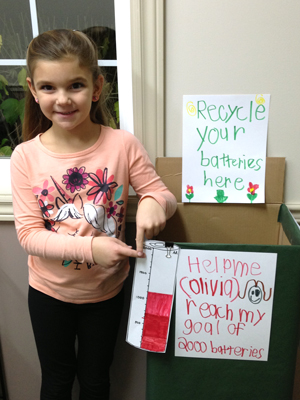 Olivia has set her own goal to recycle 2000 batteries! So far Olivia has recycled 1647 batteries with more to count she says! Wow!
"Thank you for a fun program for the kids. Olivia will be so excited today to see her Battery Boss certificate!" said Olivia's Mother.
The Student Missions were introduced to recognize the individual contributions students are making to their school's battery recycling program. To participate, students are encouraged to visit the Student Centre on the OSBRC website with their parents.
When a parent registers their child, they are provided with five Student Missions. Every time a student completes a Mission, they're given a certificate. If they complete three missions by December 11th, 2015 their name is entered into a prize draw to win one of five $50 Visa gift cards before the New Year.
If a student completes all five Missions they become an official Battery Boss. If they become a Battery Boss before Family Day on February 15th, 2016 they will have their name entered into a bonus draw for a Family Trip to Great Wolf Lodge!
For more information about Student Missions, please read the Mission Rules.
---
Related Links
Search
Recent Entries
Categories
Tag Cloud
Monthly Archives
Favorite Links