Springfield Public School Recycles 90000 Batteries!
March 30, 2016

From left, with some of the batteries they've collected, are Springfield Public School students Amy, Nyla, Paige , and Alexa.
You may have noticed some new schools moving into the top spots on the OSBRC Leaderboard. You may also have noticed that last year's winners are sitting comfortably in 3rd, 5th and 7th place and we can expect a push from them as we head down the stretch. However, one of the most interesting stories of late has been about Springfield Public School.
Springfield Public School didn't make the Top 10 last year, but a fresh outlook this past October and some renewed buy-in from students and their families has made all the difference this time around.
Find Your Champions
Early in the year the school's Secretary Mrs. Webb, setout on a mission to get people involved in the recycling program. Mrs. Webb helped students take ownership of the program by inviting them to create posters to hang around the school. It wasn't too long after, that Mrs. McQuiggan's grade 4/5 class jumped on board to help spread the word and that really helped bring Springfield's program to another level.
Effective Communication
Springfield makes frequent student announcements to remind everyone to bring in their used batteries from home. They also send out periodic newsletters through email, update parents and the community on social media and they're receiving some great support from the local news.
To keep students engaged, Springfield also runs a friendly competition between classes and the winning class walks away with a pizza party! They keep track of the batteries each class brings in on a chart in the main foyer of the school so everyone can see it. In the three weeks leading up to National Battery Day, the school ran a 'Battery Blitz' and handed out fun prizes each week. The prizes were simple things like extra recess, hot chocolate and marshmallows and even a pajama party!
Battery Bosses
To recognize the students that are going home to complete OSBRC Student Missions with their parents, Springfield created a 'Battery Boss Wall of Fame'. When a student receives their Battery Boss certificate from RMC, they get their picture taken with it and it goes up on the Wall. At last count, Springfield had 31 Battery Bosses and 59 students participating!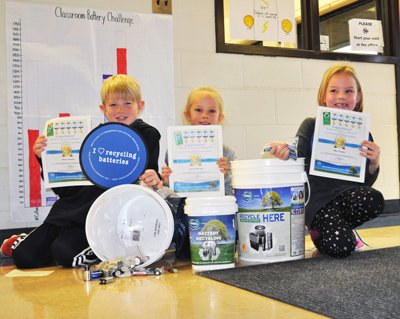 Students becoming Battery Bosses has been a personal pleasure for me. It has been so exciting sharing with students that the five missions are fun, attainable and there are prizes to be won. But most importantly, educating them on the reasons why we recycle batteries. The comment I hear often from the student's is 'I don't have 150 batteries' for Missions 3 and 4 and by the timethey are finished Missions 1 and 2 somehow they come in with their counted batteries. The students get a real sense of accomplishment and that they are helping a bigger cause.
~ Mrs Webb
Rally Behind a Common Goal
Like last year's winner, Springfield is currently in the process of creating an outdoor classroom and they hope to break ground on this project this spring. If they win, the extra funds would be used to see the project through.
The program at Springfield has not only benefited the school in its push for a top spot, but the local community is more aware that batteries can be recycled because of their efforts and the attention the school's program is receiving from the local newspapers.
Good luck to Springfield Public School and everyone else participating in the Ontario Schools Battery Recycling Challenge!
---
Related Links
Search
Recent Entries
Categories
Tag Cloud
Monthly Archives
Favorite Links