Student Mission Prize Draw Winners!
June 19, 2015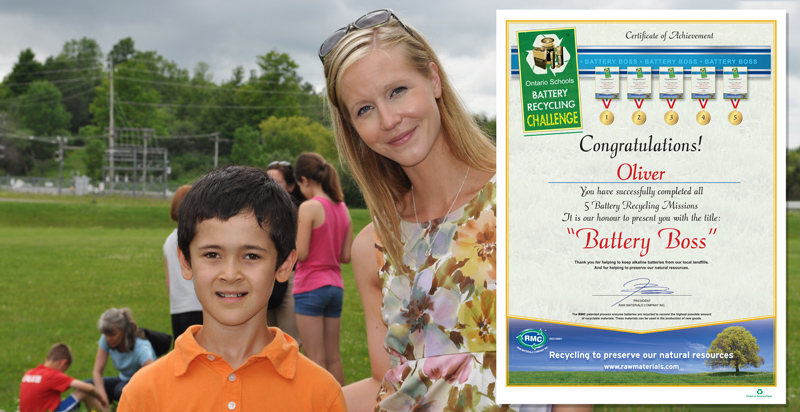 The 1st annual Ontario Schools Battery Recycling Challenge (OSBRC) was a huge success thanks to the efforts of 57,000 students and staff that participated in this year's competition.
In total, a whopping 25,628 kilograms were recycled and diverted from community landfills across the province. The Top 3 schools were announced earlier this week, and were awarded their share of the $8,925.84 prize pool.
10% of the prize pool was used to award students $50 Visa Gift Cards for completing Student Missions throughout the Challenge. Students that completed the Mission requirements had their names put into a random draw. On April 24th, we randomly selected five names and again on May 29th after the final batteries were weighed and processed, we drew an additional seven names.
We're happy to announce the 12 winners of the second Visa Gift Card Draw!

We are so impressed with the efforts of these students, and with everyone that took the time to recycle their batteries at schools this year. After the summer break, we're going to bring this program back, so save all of your batteries over the summer!
We'd like to end this year's Challenge by sharing some fun letters we received from some of the students that won a gift card.
---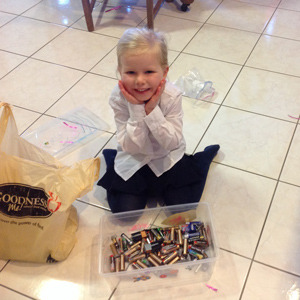 Hi Sarah,
Lily was super excited when she found out that she won, I surprised her when I picked her up with the news! She immediately wanted to spend the money on Shopkins and play doh! Which we did as soon as the card came in the mail!
She collected the batteries from all her family and the bulk of them came from her Dad's work. Her favourite part was decorating the box to put them all in, she loves using stickers and creating art!
Thanks,
Heather
---
Hello Sarah,
I had a lot of fun doing the battery challenge. I was very pleasantly surprised to find out that I had won the Mission draw. I intend to use the gift card to buy some books and to make a donation through my church for disaster relief for the people of Nepal.
For the collection of batteries for completing the missions I asked my relatives to save their batteries for me. I liked doing the survey with my relatives but doing the poster for my classroom was my favourite mission. I like art and I like informing people about social justice and the environment so I was drawn to that mission from the start.
I am glad I could do something good for the earth.
Thanks for the challenge and for the gift card!
Honora
---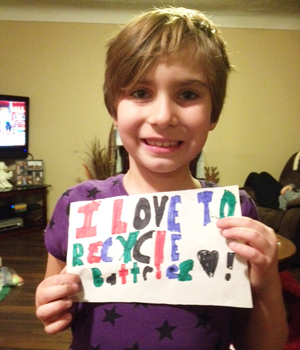 Hi Sarah,
I was completely surprised! I never thought I would win a gift card. I purchased a big Pokeman set that I had been wanting for long time but was expensive. The card let me buy it!
I asked friends and family and my mom had people at her office collecting them for me. Collecting the batteries was my favorite mission. I thought that it would be hard but I realized that people go through soooo many batteries and normally just throw them away.
Thank you,
Rheyanne
---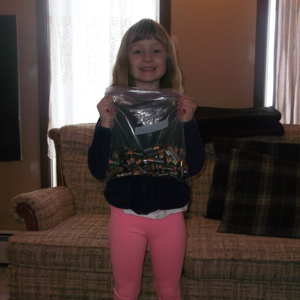 Sarah,
Thank you so much for sending the card. We had just come back from vacation when Samantha found it in the mailbox. She was super excited. For now, she has no plans for the gift card, she is dreaming and planning what she will do – maybe a toy, or going somewhere special. She collected all her batteries in a frozen yogurt container she decorated. She asked her grandparents and neighbours to contribute. Her favorite activity was creating the poster.
As a parent, I was happy to see the variety of missions to engage the children in collecting the batteries. Since the event lasted over time, it allowed them to develop a habit that will continue long after the missions were complete. Thank you.
Laurie
---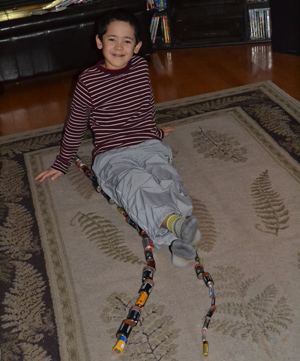 Dear Sarah,
Oliver was quite excited to have won one of the prizes from the Battery Recycling challenge. From the very beginning of the challenge, he took it very seriously and earnestly. For the past several months he has pretty much been obsessed with collecting batteries and asking everyone he knew to save them for him. This included badgering his parents to post on social media for him. His grandfather probably took the challenge just as seriously and enlisted his friends and neighbours to save their batteries as well. It was definitely a family event and we are proud of Oliver's efforts.
Ann
---
Related Links
Search
Recent Entries
Categories
Tag Cloud
Monthly Archives
Favorite Links