OSBRC Top Five Campaign Ideas!
November 30, 2018
Over the years, we've seen some great campaign ideas from OSBRC schools. In this article we share some of our favourites!
In no particular order, here are our Top 5 Campaign Ideas so far!

1. Goal Thermometer | The Goal Setter
This is a classic idea and it really helps to set the pace. Most people need something to strive for, and there's no better way than to set a realistic target and then keep track of your progress along the way.
Each time you update your thermometer, you're closing that feedback loop, which let's everyone know their efforts are paying off!
Hint: Multiply 1.36 kilograms by the number of students enrolled at the school to find your target.
2. Class Project | Student Mission 1
Sometimes it helps to get the ball rolling before the momentum starts to take over. A good way to do this is to make Student Mission 1 a classroom project.
Ask your students to bring in a plastic container from home and together as a class, decorate the containers and make recycling posters.
Hint: Distribute the containers and posters to each classroom around the school to start an in-school competition!
3. Friendly Competition | Classroom Challenge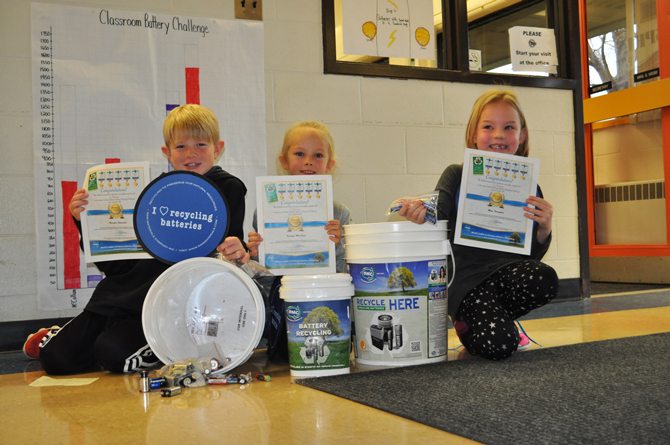 A little competition between friends is a fun way to get your students involved. Just ask the dozens of schools that use this campaign idea every year. If you do go this route, remember you can download the classroom scorecards from the OSBRC Resource section on the website.
Hint: Extra time at recess, gum day, free time, pizza party, movie of choice, sports afternoon are all great rewards for the winning class. To keep the engagement up all year long, restart your Challenge each month!
4. Introduction to Mass Marketing | Morning Announcements
This is a fun idea that students seem to enjoy. Ask your students to produce 30 second public service announcements to share with their classmates over the PA. Students can share safety tips or give updates on how many batteries have been recycled to date or they can share some fun facts about recycling.
Hint: Have your students take on the role of a news reporter or have them add a little comedy to the skits to figure out which delivery methods are the most engaging!
5. Battery Boss Wall of Fame | Acknowledgement

This is another fun campaign idea from Springfield Public School that many schools have adopted. The Wall of Fame is basically a fun way to acknowledge students that are really engaged in the Challenge and have completed all five Missions to become a Battery Boss.
The neat part about becoming a Battery Boss is doing the missions and learning how easy it is to start your own recycling program.
Students becoming Battery Bosses has been a personal pleasure for me. It has been so exciting sharing with students that the five missions are fun, attainable and there are prizes to be won. But most importantly, educating them on the reasons why we recycle batteries. The comment I hear often from the student's is 'I don't have 150 batteries' for Missions 3 and 4 and by the time they are finished Missions 1 and 2 somehow they come in with their counted batteries. The students get a real sense of accomplishment and that they are helping a bigger cause. ~ Mrs. Webb, Springfield Public School
Do you have a great idea to share?
We know there are tonnes of great ideas floating around out there. If you're doing something fun and it's having an impact at your school, we'd love to hear about it!
---
Related Links
Search
Recent Entries
Categories
Tag Cloud
Monthly Archives
Favorite Links